BelAZ 75710 -
The world's biggest mining dump
truck
s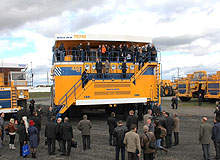 Mining
truck
s keep on getting bigger and bigger, as miners increasingly opt for huge capacity
truck
s with greater operational efficiency. Recently launched, the Belaz 75710 is by far the world's biggest dump
truck
, with the capacity to haul a staggering 496t of payload. Mining-technology.com profiles the world's biggest mining dump
truck
s, based on their payload capacity.
Belaz 75710, with a payload capacity of 496t, is the biggest mining dump
truck
in the world. The ultra-heavy dump
truck
was launched by the Belarusian Company Belaz in October 2013 under an order from a Russian mining company. Sales of Belaz 75710
truck
s were scheduled to start in 2014.
The
truck
is 20.6m-long, 8.16m-high and 9.87m-wide. The empty weight of the vehicle is 360t. Belaz 75710 features eight large-size Michelin tubeless pneumatic tyres and two 16-cylinder turbocharged diesel engines. The power output of each engine is 2,300HP. The vehicle uses an electromechanical transmission powered by alternating current. The top speed of the
truck
is 64km/h.