Performance characteristics of
concrete pump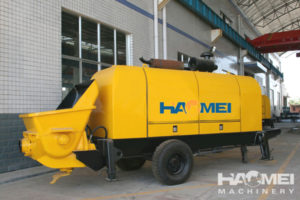 concrete pumping code of practice
1. Three
concrete pump
systems and hydraulic circuits are used for non-interference and system operation.
2. It has the function of reverse pump, which is conducive to timely troubleshooting the pipe blockage, and can shut down for short time.
3. Advanced s-tube distributing valve can automatically compensate wear gap and has good sealing performance.
4. Adopt wear-resistant alloy glasses plate and floating cutting ring, with long service life.
5. Long stroke cylinder extends the service life of cylinder and piston.
6. Optimized design of hopper is easy to clean and has better absorbing performance.
7. Automatic centralized lubrication system to ensure effective lubrication in machine operation.
8. Remote control function makes operation more secure and convenient.
9. All parts and components adopt national standards, and have good interchangeability.
The order of
concrete pump
shall be in accordance with the following:
1. When the concrete is transported by conveying pipe, it shall be poured far and near;
2. The concrete of the same area shall be poured continuously and stratified in the order of vertical structure and horizontal structure first;
3. When construction joints are not allowed, the interval time of concrete casting between regions and between upper and lower floors shall not exceed the initial setting time of concrete;
4. When the substratum concrete is initially set and the superstratum concrete is poured, the construction joints shall be treated according to the regulations.
5. The concrete pouring area shall be predetermined according to the characteristics of the engineering structure, the plane shape and geometry size, the capacity of concrete supply and pumping equipment, labor force and management ability, and the size of the surrounding site. The concrete pouring shall conform to the relevant provisions of the code for construction and acceptance of concrete structures, which is the current national standard.