Ready-mix concrete
is concrete that is manufactured in a factory or batching plant according to a set recipe, and then delivered to a work site by truck mounted in transit mixers.
This results in a precise mixture, allowing specialty concrete mixture to be developed and implemented on construction sites. The first ready-mix factory was built in the 1930s, but the industry did not begin to expand significantly until the 1960s, and it has continued to grow since then.
Ready-mix concrete is often preferred over on-site concrete mixing because of the precision of the mixture and reduced work site confusion.
Ready-mix concrete, or RMC as it is popularly called, refers to concrete that is specifically manufactured for delivery to the customer's construction site in a freshly mixed and plastic or unhardened state. Concrete itself is a mixture of Portland cement, water and aggregates comprising sand and gravel or crushed stone. Ready-mix concrete is bought and sold by volume – usually expressed in cubic meters (cubic yards in the US).
Advantages of Ready Mixed Concrete:
1.Quality assured concrete:- Concrete is produced under controlled conditions using consistent quality of raw material.
2.High speed of construction- Speed of construction can be vary fast in case RMC is used.
3.Reduction in cement consumption by 10 – 12 % due to better handling and proper mixing. Further reduction is possible if mineral admixtures or cementitious materials are used.
4.Versatility in uses and methods of placing: The mix design of the concrete can be tailor made to suit the placing methods of the contractor.
5.Since ready mixed concrete (RMC) uses bulk cement instead of bagged cement, dust pollution will be reduced and cement will be saved.
5.Conservation of energy and resources because of saving of cement.
6.Environment pollution is reduced due to less production of cement.
7.With better durability of structure, their overall service life increase and there is saving in life-cycle cost.
8.Eliminating or minimizing human error and reduction in dependency on labour.
9.Timely deliveries in large as well as small pours.
10.No need for space for storing the materials like coarse and fine aggregate, cement, water and admixtures.
11.No delay due to site based batching plant erection/ dismantling; no equipment to hire; no depreciation of costs.
12.Reduced noise and air pollution; less consumption of petrol and diesel and less time loss to business.
Disadvantages of ready-mix concrete:
1.The materials are batched at a central plant, and the mixing begins at that plant, so the traveling time from the plant to the site is critical over longer distances. Some sites are just too far away, however the use of admixtures like retarder can be added.
2.Furthermore, access roads and site access have to be able to carry the greater weight of the ready-mix truck plus load. (Green concrete is approx. 2.5 tonne per m³.) This problem can be overcome by utilizing so-called 'mini mix' companies which use smaller 4m³ capacity mixers able to reach more-restricted sites.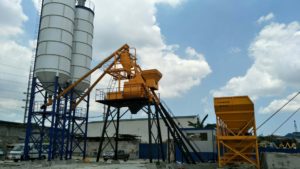 3.Concrete's limited time span between mixing and curing means that ready-mix should be placed within 210 minutes of batching at the plant. Modern admixtures can modify that time span precisely, however, so the amount and type of admixture added to the mix is very important.
4.As the
Ready Mixed Concrete
is not available for placement immediately after preparation of concrete mix, loss of workability occurs. In addition, there are chances of setting of concrete if transit time involved is more. Therefore, generally admixture like plasticisers/ super plasticisers and retarders are used. Addition of retarders may delay the setting time substantially which may cause placement problems. In addition, it may also affect the strength of concrete. Therefore, it is necessary that the admixtures i.e. plasticisers and super plasticisers/ retarders used in
Ready Mixed Concrete
are properly tested for their suitability with the concrete. In case loss of strength is observed, the characteristic strength may have to be enhanced so that after loss of strength, required characteristic strength is available.