The
ready mix concrete plant
are designed for ready-mix producers, contractors, precast manufacturers and special applications. Standard models furnished with Twin Shaft Mixers from 1.0 m3 up to 6.0 m3 compacted output per batch. It is a convenient and efficient tool for building. The concrete is delivered to the site mixed and ready to be cast which saves time and money.
The
ready mix batching plant
are available in various capacities ranging from 25m3, to 120m3 per hour of compacted concrete output and designed for operations under extreme conditions with highest performance. Special plant designs are available for dam construction and precast manufacturers. The design can adopt Ice dosing, Microsilica dosing and some special additives very easily.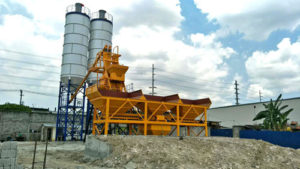 Cement Plant
There are two types of
ready-mix plants.
A central mixing plant uses a stationary mixer to mix the concrete. The concrete is then transferred into the transportation vehicle. A truck mixing plant places all unmixed dry materials into a truck mixer. Water is added and mixing is then done in the truck. Many central mix plants have the ability to bypass the stationary mixer, thus making them a hybrid of the two types. Truck mixing plants are simplier and less expensive than central mix plants because they do not have a stationary mixer. This is important because less machinery means less potential problems. For long trips the dry materials can be held in the truck until it reaches the site where water is then added and mixing can be completed. The advantage of central mixing lies within the fact that a mixing truck can hold more completely mixed concrete than unmixed concrete. This means that there can be more concrete delivered with fewer trucks.