Construction
concrete mixing plant
equipment has been used more and more in the past two years.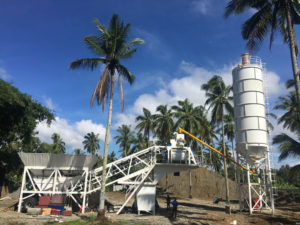 YHZS60 concrete batching plant installed in Davao
1. Installation of feeding system
Installation of rural
small mixing plant
finished product installation will be finished product belt conveyor belt conveyor, from bending after framework on the basis, framework, before and after the connection is good then before and after leg good connection with conveyer, brace and rack lug connection is good, then the front of conveyor lift, fitting of front and rear leg and brace, then put the leg before and after the anchor bolts.
2. Hoisting of stirring machine
The installation of the
mixing plant
and the powder batching system hoist the host frame, put it on the foundation and tighten its anchor bolts.
3. Installation of finished material distribution bin
The installation of finished material storage hopper will lift the finished product storage hopper, stand up the supporting leg, and connect the platform, ladder and finished material storage hopper. The installation of the pellet batching system shall be based on the hoisting pellet batching system, which shall connect the plugboard, fold up the raised boards on both sides and connect the pallet, expand the original aggregate conveyor, connect the front and rear racks, make the electric roller align with the hole center of the mixer's head cover, and then tighten the anchor bolts.
4. Installation of cement powder bin
The installation of the cement bin assembles the components of the cement bin one by one on the ground, lifts the cement bin, and places the lower bin body bracket on one side of less horizontal support toward the powder batching system, fixing the upper and lower bin body, and then fixing the anchor bolts.
5. Installation of screw feeder
The screw conveyor is installed and the screw conveyor is hoisted. The ball hinge of the screw conveyor is connected with the discharge port of the cement bin, the feed port of the powder hopper is used, and then the conveyor is connected with the lifting ear of the cement bin with the steel wire rope, and the anchor bolt is fixed.
6. Other attachments
Lift the pump to the proper position and connect the output pipe. Put the air compressor on the side of the finished hopper, connect the air compressor outlet with the air control box inlet with the air control box outlet, and connect the air control box outlet to the pipe of cement silo broken arch.