There are many reasons why
ready–mix concrete manufacturing
companies relocate their
concrete mixing plant
and batching plants:
Necessity to look for new markets due to economical changes
Increasing demand on concrete products due to business growth
Necessity to get closer to customers or supplier network
Completion of bigger projects
The necessary effort to relocate a
concrete mixing plant
mainly depends on its construction
1. First type, Stationary (permanent)
concrete mixing plant
– relocation difficult and expensive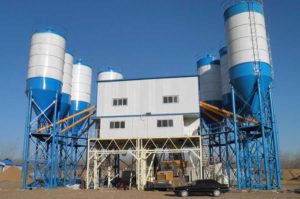 Stationary concrete mixing plants
Stationary (permanent)
concrete mixing plants
are generally not designed for a relocation. They often are constructed specially to fit onto the building ground and to fulfill the requirements as set by the client at the time of erection. Generally these plants consist of single elements, which are put together piece by piece at the site.
Disadvantages of such
stationary plants
are
Expensive construction
A lot of work engineering and fitting work at the construction site required, especially if the plant is equipped with insulation against cold/heat
Noteworthy testing work required to ensure that all components and systems are working well
First type, Stationary (permanent)
concrete mixing plants
Any relocation and re-erection of such a type of
concrete mixing plants,
if it can't be avoided, needs a good planning of each step of dismantling and re-installation and therefore very accurate documentation!
If an existing stationary plant is concerned, additional surveys, measures and even more detailed documentation are required
Layouts/drawings of all facilities and equipment
Review of the condition of existing equipment and evaluation whether equipment is suitable for relocation or needs renewal/scrapping. Often, it's more costly to repair worn down/defect equipment than it is to replace it
Operation and maintenance manuals, maintenance records, spare parts inventories, PLC program data
Instructions regarding disconnection, dismantling, loading, protecting, transporting, unloading, reconnection and startup
Determination if special foundations, pits or trenches are required at the new site
Emptying of bins, silos, hoppers, screws and scales
2. The second type,
mobile concrete mixing plants
on wheels – relocation in some cases quite difficult and expensive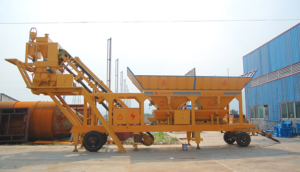 mobile concrete mixing plants
Such
mobile concrete mixing plants
consist generally of frameworks carrying dosing and conveying equipment, scales and a concrete mixer. Smaller plants are also equipped with low volume aggregate bins while larger plants generally consist of two units, a mixing unit and an aggregate bin unit. Small mobile concrete mixing  plants/ mixing units are equipped with axles so they may be towed/transported by a truck/tractor unit. The high mobility of such plants is their main advantage, although if aggregate units, control cabin and additional storage units as well as binding agent silos have to be moved, additional trailer trucks/tractor units are required for transports.
mobile concrete mixing plant
s on wheels, with low production capacity and without a lot of additional equipment, can be quickly moved from site to site however, bring a lot of disadvantages:
Limited aggregate storage capacity
Low production capacity
High operating costs because of high filling frequency (bins, silos)
Very little space and no convenient ladders/overpasses for service and maintenance
Thermal insulation must be dismantled and re-assembled separately
High and expensive loading ramp required, due to high loading edges of aggregate bins
The second type, mobile concrete mixing plants on wheels
The relocation and re-erection of such plant can be very expensive
If the plant shall be operated in cold or hot weather quite a lot of extra work for dismantling/reinstallation of the insulation is required. Very often problems occur when the axle shall be used again after a longer time, due to influences caused by water and dirt.
3. The third type, containerized
concrete mixing plant
– easy to move and very economical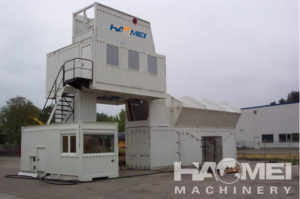 requirement of the construction of green concrete mixng plant
This type of
concrete mixing batching plant
is becoming more and more popular. Such plants are based on a modular construction, fully equipped with aggregate bins, a mixer, binding agent, aggregate and admixture conveying, dosing and weighing devices as well as everything else required for easy and optimal operation, maintenance, service and repair. Most equipment of the units gets preinstalled and tested at the factory.
The third type, containerized
concrete mixing batching plant
Relocation and re-erection of such a type of plant, even if insulated against heat/cold, is very easy and the most economical solution
Perfect thermal insulation preinstalled at the factory, doesn't need to be dismantled when moving the concrete mixing batching plant
Mobile steel frames as foundations and mobile loading ramp elements
Easy loading, transporting and unloading due to units with sea container dimensions
Easy and fast connection of all units due to plug-in connectors
Summary:
Looking at all aspects as there are economics, space required, functionality, operability, service friendliness, time and effort required for relocation and the ecological footprint – there is not better solution for a
mobile concrete mixing plant
than a containerized
concrete batching plant
!