The
concrete mixer truck
is mainly composed of two parts: chassis system, hydraulic transmission system, stirring tank, discharging system, cleaning system, sub-frame, operating system, roller system, feeding system , The circuit system consists of ten parts.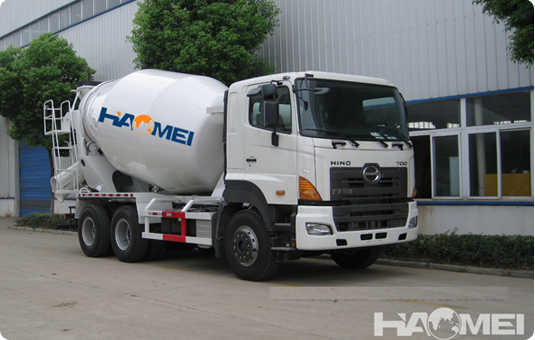 Mixer mixing function principle:
Take the power of the engine through the small drive shaft to drive the hydraulic pump hydraulic motor rotation, driven by the reducer barrel rotation. In the transport of concrete on the way, need to keep the mixing tank 1-3 minutes per minute low-speed rotation, to ensure that the concrete homogeneous, while preventing the separation of concrete, known as agitation (commonly known as stirring).
Mixer charging function principle:
concrete mixer truck
in the concrete when the mixing tank speed faster, the speed of 6-10 per minute, the concrete through the charging system from the mouth of the catheter into the mixing tube, and under the guidance of the spiral blade to the middle of the mixing tube.
Mixer unloading function principle:
When the
concrete mixer truck
is unloading, the engine will transmit power to the mixing tank through the take-up device, hydraulic pump, reducer and so on to drive the tank to rotate at a speed of 3-14 rpm. The concrete is under the top of the blade spiral motion Moves in the direction of the cylinder and is discharged through the hopper of the concret mixer. The direction of rotation of the tank is opposite to that of the feed.
Mixer cleaning function principle:
Through the brake system of the reservoir pressure tank pressure, the water flow through the cleaning tank system, loading port, discharge sys