There are three kinds of
Concrete Mixing Plant
selection methods, the project has a large amount of work in the market, on the choice of medium-sized or large
Concrete Mixing Plant
, if the duration is short,then choose small sized ones.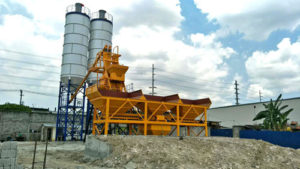 Cement Plant
(1) According to the amount to choose
Concrete Mixing Plant
: concrete mixing plant is divided into small, medium and large size.If your projextwork on large and medium-sized mixing station, if the project is small, then select the small and medium-sized mixing Plant.
(2) Select the
mixing Plant
according to the plan: When the Mixing Concrete is plastic or semi-plastic, choose the self-falling concrete mixing station; if the mixing concrete is high strength, high hardness or light weight concrete, select the forced mixing station Suitable.
(3) According to the composition of concrete and consistency aspects of selection: If The Mixing of concrete consistency and aggregate size is small,you should choose a larger capacity of the self-down mixer. If mixing consistency and large aggregate size of concrete, it is appropriate to use Mixing drum with faster speed self-drop Mixer. If the consistency is large and the aggregate size is small, it is advisable to use a forced-type mixer or a mixer with small and medium capacity.