HZS25 concrete mixing plant
belongs to the smallest model of
mixing station
, and some say 25 stations, 25 stations simple, in fact, it's full name is HZS25
concrete batching plant.
HZS25 simple
mixing plant
is small, but perfectly formed. It is precisely because it is small, but it also created a lot of advantages.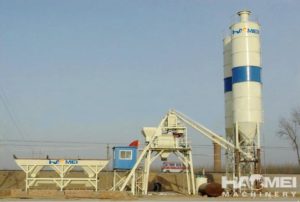 HZS25 concrete mixing plant
The main characters of HZS25
concrete mixing plant
are:
1. Accurate measurement, high efficiency
Aggregate blending adopt PLD1200 mixer with accurate measurement and high production efficiency.
2. The mixing quality is good
HZS25
concrete mixing plant
adopts JS750 twin-shaft forced concrete mixer, which has good quality and high efficiency.
3. The modular structure with convenient installation
HZS25
concrete mixing plant
adopts modular structure, unit modular, the installation and relocation is very convenient.
4. Electronic weigher for measurement with high precision.
Powder, water, admixture adopts electronic scale metering, ingredients is with high precision.
5. Siphon type water pumps to spray uniformly.
Water supply system using siphon pump pressure principle to accelerate the water flow speed and spray uniformly .
6. Imported components with advanced performance
Electric control system adopts imported components with reliable performance and can be manual, automatic control, easy to operate.
haomei has produced
concrete mixing plant
for over 20years as a leading manufacturer of the industry. In overseas markets, we have the delivery record of over 50 countries. haomei's Hzs series
concrete mixing plant
based on modular structure and its easy operation and maintenance received a high evaluation from users..
haomei HZS series commercial
concrete mixing plant
for sale in the market is widely used to produce commercial concrete, so people like to call it
commercial cement batching plant.
It is a full set of concrete mixing equipment, including the following parts: concrete mixing system, aggregate batching and weighing system, cement weighing system, water weighing system, additive weighing system (optional), cement silo, screw conveyor, full automatic control system, etc.
HZS series
ready-mixed concrete batching plant
is a full set of high efficient forced type concrete mixing equipments to produce precast concrete.