Assisted by necessary manual work, a
forced concrete mixer
functions as a small
concrete batching plan
t. As the core unit for any
batching plant
, it is composed of systems of feeding, mixing, water supplying, discharging, oil supplying and electronic control. The working principle of each system is as below.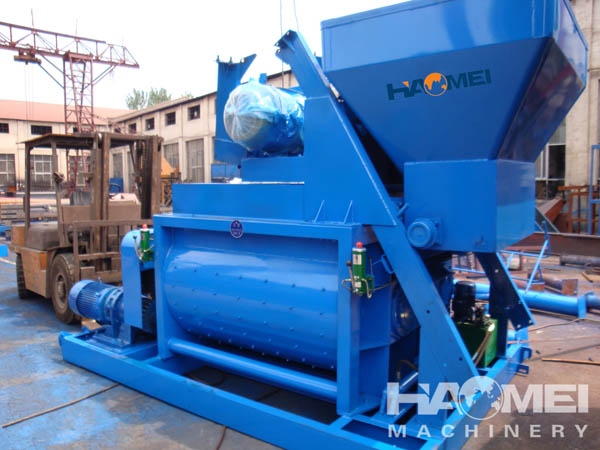 Mixing System
The mixing system consists of an electrical motor, a belt pulley, a speed changer, exposed gears, a mixing tank, a mixing device and a lubricating device. Driving force of the motor is passed successively through the belt pulley, the speed changer, two pairs of exposed gears and eventually drives two horizontal mixing shafts rotate in converse directions. In this way, raw materials are mixed evenly and thoroughly.
Feeding System
The feeding system of a forced
concrete mixer
includes a windlass, a feeding rail, a hopper etc. Motor of the windlass drives the winding tank to rotate, which makes steel wire twine around the tank. The hopper fixed onto the wire goes up along the feeding rail until it reaches a given height, then it moves into a horizontal cross rail. Its discharge door opens automatically to free raw materials through a funnel into the mixing tank. A position regulator has been installed to guarantee precise location and safe moving of the hopper.
Water Supply System
The water supply system is made up of a pump, a motor and a cleaning device. Water can be sent into the mixing tank by starting the pump. Two valves regulate the water flow and and a time relay controls total water amount. Under automatic timing state, the pump stops automatically once it reaches supply time set in advance. On the other hand, manual state enables the pump to supply water constantly.
Discharge System
There are three types of discharge methods: manual, electronic and hydraulic. A position device controls the close and open positions of the discharge door.
Electronic Control System
Electronic control system of a forced concrete mixer is equipped with auto switches and an AC contactor. It protects the mixer against short circuit, overload and phase failure.