The use of a
concrete mixe
r is to combine cement with aggregates including sand or gravel, and water to form concrete. The
concrete mixers
must not only achieve the uniformity of the mix, but they also discharge the mix without disturbing that uniformity.
Whatever may be the method of the mixing of the material of concrete, it should be done thoroughly to ensure the uniform distribution of materials in concrete mass and this can be judged by uniform colour and consistency of concrete.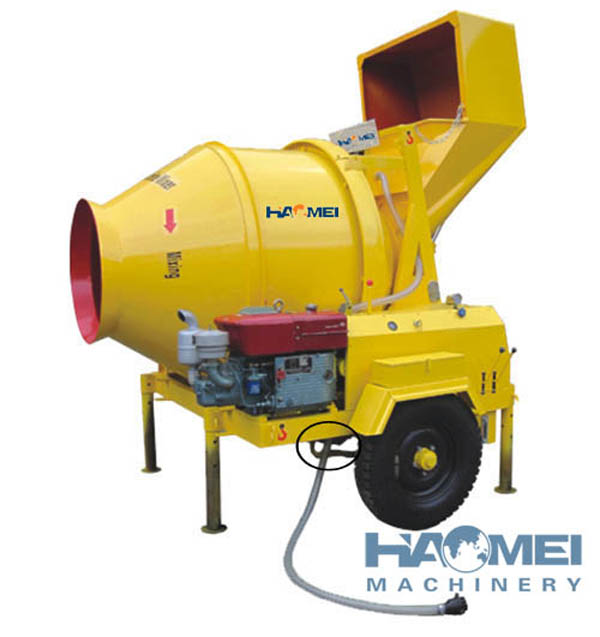 The machine used for mixing concrete is known as the mechanical concrete mixer, or simply concrete mixer.
Concrete Mixer
Courtesy - 123rf
There are Two Main Types of
Concrete Mixers
Which are as Under:
01. Continuous Mixer:
Continuous mixers are used in massive constructions such as dams, bridges, etc., which involve the use of large masses of concrete and also require the continuous flow of concrete.  
02. Batch or Drum Mixer:
Batch or Drum mixer is most commonly used. It consists of a revolving drum with blades or baffles inside it. In this type of mixer, all the materials of the desired proportioned mix are fed into the hopper of the revolving drum and then drum on being rotated at a certain speed mixes the materials with the aid of a series of blades provided inside. The resulting mix is finally discharged from the drum and conveyed for use.
The Batch Mixers are of Following Two Types:
Tilting Mixers:
Tilting mixers have a conical or bowl-shaped drum with vanes inside. They are preferable for mixes of low workability and for those containing large size aggregate. The mixing chamber which is known as drum, is tilted for discharging.
Non-Tilting Mixers:
In non-tilting mixers, the axis of the mixer is always horizontal. The discharge is obtained either by inserting a chute into the drum or by reversing the direction of rotation of the drum or rarely by splitting of the drum.