Mobile concrete batch plants
beat stationary plants in mobility and neat structure. A
mobile plant
is composed of a main unit base, a control room, an aggregate weighing system, a belt conveyor, a mixer and assistant parts.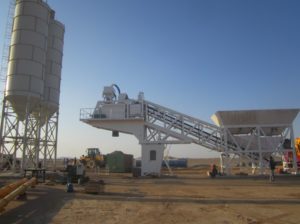 Main components of mini concrete batch plant:
The main unit base of a
mobile concrete batch plant
is arm-shaped, with a traction pin and several supporting legs. The base serves as the heart of the whole plant. All other components are arranged around it. It can be connected to a towing vehicle by the traction pin whenever there's need for site transferring. While the plant is in operation, the base supports the mixer and weighing scales for cement and liquid materials. The inspection fence and platform is installed around it. The control room, located at the bottom of the base, houses an automatic controlling system which is the same as that of a
stationary concrete batching plant.
The room functions as the front supporting leg in operation of the plant, while it will retreat back into the supporting stand during site transferring. All its wires remain connected even in travel. The aggregate weighing system stands at the rear end of a mobile concrete batch plant. In the upper of the system is a storage hopper consisting of two or four lattices. Boards are added around the edge of the hopper to heighten its volume. The door of each lattice opens pneumatically and successively. Several materials are measured in an accumulative way. At the base of the system there's a supporting leg for working state and a wheel for travelling.
Mobile plants
are normally equipped with JS forced concrete mixers which are featured by high efficiency and excellent effect. The belt conveyor joins the main unit base and the aggregate distributor, combining the main frame, the conveyor frame and the distributor frame together into the main structure of a
mobile concrete batch plant
.