Concrete mixing plant
appears to stop rotating how to do? I'm here to teach you.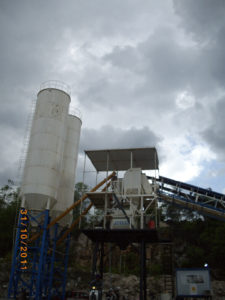 1. When the
concrete mixer
is overloaded and the agitator shaft is stopped, it only needs to adjust the feed amount, unload the excess materials and reduce the rotating load of the agitator shaft.
2. The side blade and closed wall binding material, before the stalling of stirring shaft friction tends to have a shrill sound, when this happens, need to stop the machine immediately to check, artificial remove foreign bodies, readjust concrete mixer mixing blades or side of the gap between blade and tank wall.
3. If the motor drive belt of the
concrete mixer
is too loose, the tension of the motor drive belt of the
concrete mixer
can be adjusted only after stopping