Can a
concrete pump
mix be poured using a crane and bucket? Yes, you can pour (place) concrete that is mixed for a pump truck with a concrete bucket. Concrete buckets designed for cranes or forklifts allow the concrete bucket to be lifted into place, and a lever is used to open the mouth of the bucket so the concrete flows into the forms. Some have bottom discharge "doors" that open like a clam, others have side discharge chutes so the concrete can be dropped into forms that the bucket cannot be position over.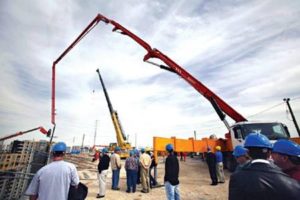 Other buckets have a funnel and tremis to allow the concrete to be placed in columns. The main thing is to have a bucket with a good seal, since
pump
mix concrete is usually fairly wet.
Concrete pumps
push concrete down a pipe by using pistons, the concrete does not flow like water in a tap but rather gushes.
To achive what you propose the bucket must not be suspended on the crane and it must be propped in order not tip. Once the bucket is filled the crane can raise it and move it to the destination where the concrete will be poured.