Matters needing attention during installation of cement silo in
concrete mixing plant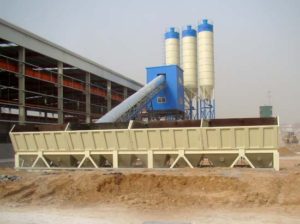 (1) of the cement
concrete mixing plan
t storehouse of screw bolt to reserve foundation pit pouring, based on adjusted cement warehouse support center line and the center line of overlap at the same time, adjust the above four flange on the same horizontal plane (measurement: the theodolite or transparent plastic hose diameter of 8 to 10 with colored water measurement method), the concrete pouring can be selected. The grade number of concrete used for reserved pit pouring should be one level higher than that used for foundation. In winter construction, in order to shorten the construction period, the concrete used should be added early and strong anti-freeze agent. After the foundation concrete solidifies for 5-7 days, the cement silo body can be installed. When the cement silo body is installed, the vertical degree of the cement silo body shall be measured by theodolite, which is one thousandth of the height. In order to shorten the construction period, embedded parts can also be used in infrastructure instead of anchor bolts to fix cement silo or agitator.
(2) the installation of the
concrete mixing plan
t mixing console: mixer chassis plane under appropriate cushion is high, the leg with hinge connected to the host is good, installed cement balance, water balance, admixture scale, can be lifting, measure and adjust the host chassis, in horizontal state, after the center line of the center line of the leg and base overlap by pouring anchor bolt in the reserve pit (or base and reserved and built-in welding).
(3) installation of other parts of concrete mixing station:
Concrete mixing plant
and cement warehouse to the host after the installation, can install screw conveyor, lifting, check all lubricating points filling oil and grease, and must carry on the empty running test, found that the problem solves promptly, the installation of batching machine parts, in place, according to the requirement of the foundation drawing small batching machine is put on the solid foundation pier plane, large batching machine for casting anchor bolt, the mechanical parts after the installation, check all sorts of equipment all lubricating points injection of the lubricating oil (winter must change is suitable for low temperature condition in the northeast of lubricating oil) or grease, It can be connected and tested in an empty car according to the specification and the electrical schematic diagram.