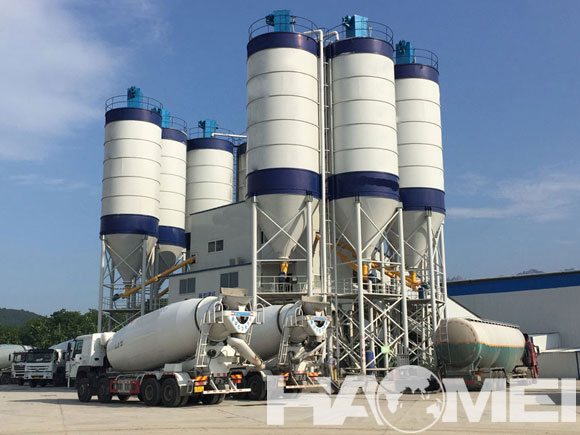 There are more raw materials needed for commercial
concrete mixing stations
, and the measuring equipment of different raw materials is different. Generally speaking, a complete set of commercial
concrete mixing stations
is equipped with at least four sets of measuring equipment, as follows:
1. Water metering equipment
Water metering equipment is aimed at the control of the amount of water on concrete mixed with commercial products. This method can be applied to enterprises with low requirements of commodity concrete, but it is not recommended for enterprises with strict requirements. The accuracy is not high through the water flow measurement, which has a great influence on the later analysis of block test strength and so on. The price of water metering equipment is not high. Generally, customers are advised not to choose water metering equipment in order to save this cost.
2. Measuring equipment for liquid admixture
The measurement of liquid materials generally includes gravity measurement, volume measurement and flow measurement. Generally speaking, the accuracy of volume measurement is worse than that of weight measurement. According to gb14902-94 premix
mixing station
, the measurement requirement of liquid admixture in commercial
concrete mixing station
is weight measurement.
3. Cement measuring equipment
Cement measuring equipment is used to measure the amount of cement used for raw materials. It is commonly used with cement warehouse, and this set of measurement is generally configured when cement warehouse leaves factory.
4. Aggregate measurement equipment
The measuring equipment of aggregate is generally divided into electronic scale and lever electronic scale. After the measurement is completed, the aggregate is removed from the mixer or feeding device by the fan driven by the cylinder. The lever electronic scale is both a measuring hopper and a lifting hopper. When the material is measured, the hopper begins to rise and is lifted to the unloading position. When the material door is opened by the baffle rail, the aggregate is discharged into the blender.
The measuring equipment of
concrete mixing station
is introduced here for you. If you need more information, please keep following this website