Different types of
concrete mixing stations
are equipped with different quantities of bulk cement warehouses. How many cement Silo should be equipped in 90 c
oncrete mixing stations
? So let's do that.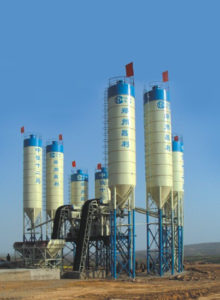 concrete mixing stations
First, let's look at the factors that influence the number of cement bins in concrete mixing stations.
1. Affected by the distance between the construction site of
mixing station
and bulk cement plant. If the distance is long, the quantity of engineering is large, and the construction period is tight, more cement storage is needed, then more bulk cement warehouse should be purchased. If the distance is close and the transportation is convenient, a few cement warehouses can be equipped as far as possible.
2. Affected by users' demand for raw materials of concrete. In order to supply the required materials in time, the agitator station needs to reserve a large amount of cement or fly ash. At this time, more cement warehouses are needed.
Secondly, we will analyze the cement silo required for 90
concrete mixing stations
.
The theoretical productivity of 90
concrete mixing plant
is 90m cubed /h, the capacity of concrete mixer is 1500L, and the capacity of batching machine is 2400L. Of course, this is not fixed, you can be equipped with two 200 t cement warehouse + 1 100 t cement warehouse, the main according to the types of concrete material, such as concrete mixing plant covers an area of the specific situation to decide.
In addition, the distance is also the influence factor of 90
concrete mixing plant
equipped with cement silo. If the mixing plant is very close to the cement plant, it is ok to store less cement, so it will not affect to equip a cement warehouse less. If you are too far away, store a little more cement. In addition, cement silo generally refers to tonnage and needs to calculate the volume by itself. Cement is generally calculated according to the specific gravity of 1.2T/m cubed.
About 90 cement
concrete mixing plant
Cement Silo equipped with guidance is introduced so much, haomei machinery, the types of cement silo is not only for production is complete, and have good airtight performance, long service life, short construction period, low equipment cost, cover an area of an area small, and many other competitive advantages, such as have order needs, wade@haomei.biz