In the safety regulations of
concrete mixing plan
t , the requirements of operators are as follows:
1. Strictly abide by the regulations on the management of electromechanical equipment, safety operation procedures and the rules and regulations of the
mixing plant
, and obey the instructions of the relevant managers.
2. Conduct daily maintenance and overhaul of the equipment in strict accordance with the regulations to ensure the normal operation of the equipment.
4. Timely clean the concrete and sundries attached to the equipment, and accept the supervision, inspection and guidance of the electromechanical department and maintenance personnel.
5. The driver of the concrete transport truck shall be responsible for the inspection and removal of water accumulation and debris in the transportation tank before the first concrete loading of the vehicle every day; According to the requirements of the "concrete transport order", the concrete transport reaches the destination in time, and after the concrete has been discharged, the concrete transport bill that the concrete receiving station is responsible for will be sent to the concrete mixing station.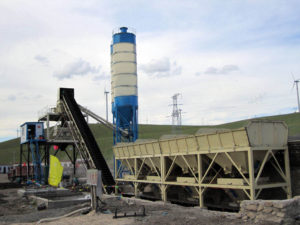 6. In the process of concrete transportation, the driver should keep the tank of the mixing tank for 2~4 revolutions/minute speed to stir the concrete, and it should be rotated for 20~30 seconds at a rapid rotation, and then the concrete shall be fed into the concrete hopper.
7, mixing the driver when mixing the first set of material, should increase 10% cement, fine aggregate, the water-binder ratio unchanged, so that holds slurry blender, or mixing with the label as required pump lubrication pipes with cement mortar.
8. The driver of the class shall complete the statistical table of concrete distribution and the record book of the trolley in strict accordance with the requirements.
9. The concrete pump workers and plumbers at the construction site shall be subject to the command of the on-site construction workers and shall be guided by the technical management of the equipment of the mechanical technicians.