How do you check the concrete mixing plant?
When you are in charge of a technician or a
mixing plant
, how do you determine whether the
concrete mixing plant
is qualified? Here, haomei has compiled a few validation criteria for you: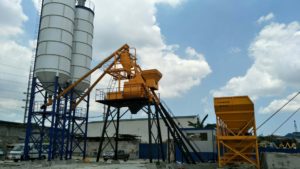 1. The mixing drum mixer if since the fall of
concrete mixing plant
type, it's discharging coil radial runout of not more than 1% of the inlet diameter, also check mixer on the quality of the steel sieve sieve and screen the reasonable size of the mesh and screen mesh and check the installation accuracy;
2. The transmission system of
concrete mixing plan
tshould be flexible and without abnormal sound;
3. The belt conveyor, bucket elevator and cantilever shovel in the concrete mixing station equipment should be smooth, flexible in operation, high in braking, no abnormal noise, no card chain;
4. It is also important to check the measurement system, to check the sensitivity and accuracy of the measurement system;
5. The inlet and outlet of the measuring hopper should be smooth, without the appearance of product and overflow;
6. There is no leakage phenomenon in the relief valve of concrete mixing station; The quality of cement tank is qualified; The matching line installation should be reasonable, the equipment installation should be correct.