Many large and medium sized machinery and equipment purchase capital is very large, so necessary maintenance and repair is necessary, especially
concrete mixe
r. How to maintenance concrete mixer in hot and rainy summerand let it run normally, is a problem concerned by a lot of engineering users. Now, Haomei  machinery will introduces the maintenance method of concrete mixer in summer.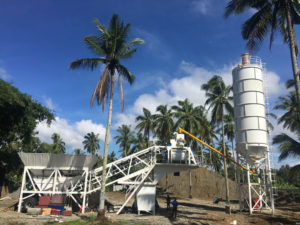 1. In the summer, the weather is hot and humid. The water suction pipes, and inner levers are easy to get rusted, should always check those parts and do antirust paint.
2, Do a good job in the heat dissipation of
concrete mixer
, especially the heat dissipation of mixing tank and reducer. Try to place the mixer in the ventilated area, reduce the exposure to sunlight, and arrange the working hours of the concrete mixer reasonably.
3, In summer hot weather should pay attention to check and adjust the tension of the belt of the
mixer
and the tightness of the bolt.
4, Do a good job of rain prevention work, especially the wire and plug parts where the
mixer
is connected to electricity. For safety reasons, please promptly cut off the power supply of the mixer.
5, In summer, the temperature is high and the water evaporation is fast, so the concrete in the mixing bucket should be cleaned immediately after the
mixing machine
work. When cleaning, the mixed water can be rolled in the mixing bucket for 10-15 minutes. (in this process, the power supply should be cut off to prevent the leakage of electricity) to prevent the concrete from solidifying in the cylinder and affecting the working nature of the mixer. Energy and service life.
6, Check the lubrication of mixer shaft frequently, preferably lubricate once a week.
haomei Machinery Manufacturing Co., Ltd. is a professional expert in
mixing machinery
manufacturing. The company is engaged in the industry of
concrete mixing pl
ant in the years, and has rich experience in mechanical manufacturing. It is deeply trusted by the friends of the industry. Our company has provided high quality and quality
mixing station
machinery for many large construction machinery companies, and provide customers with high quality and perfect after-sales service in time. We will also offer more information to all of us and welcome to our company's official website.