In the installation of
concrete mixing plant
, there are many details that must be taken care of, such as the construction and selection of the foundation before the
concrete mixing plant
. Let's take a look at it today.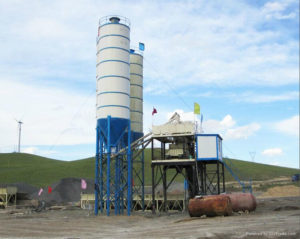 HZS Series Maritime Work Concrete Mixing plant
First, the level of the
concrete mixing plant
must be tested with the level meter and the hyperplane. In order to prepare the embedded iron according to the drawing requirements of the
mixing plan
t, the size of the embedded iron shall not be changed at will, and the technical guidance personnel of the site must be notified to make the written proof. It is required to lay steel mesh and steel anchor hooks in the foundation of the mixing station. The depth and width of the excavation shall not be lower than the dimensions required in the drawing. Do not change the dimensions indicated in the drawings. If any change, please inform the technical instructor of the site and make a written confirmation.
Secondly, according to technical requirements by taking
concrete mixing plant
and find a good benchmark, size error between the two basis shall not be greater than 50 mm, with lime out the center of the base and the mining base size limits. After the foundation excavation is qualified, the concrete shall be poured and the secondary casting must be poured twice. Mining base, with reinforced or peg based the centerline position of the reserved, labeling requirements clear, two of the same basic embedded iron centerline position to be in the same line, deviation shall not be greater than 20 mm. Before the casting is completed, the pre-embedded iron must be kept at the level of the above ground level and the horizontal and parallel with the adjacent embedded iron, and shall not have the phenomenon of twisting Angle and deviation from the center.