The gravel separator in the
concrete mixing plant
is the preferred equipment for the new type of environmental protection
concrete mixing plant
, and completely realizes zero discharge of the waste of the
concrete mixing plant
. With the wide application of commercial concrete, sand and stone separator has become an indispensable equipment in the mixing station. The following is an introduction to the role of the gravel separator in the
concrete mixing plant
.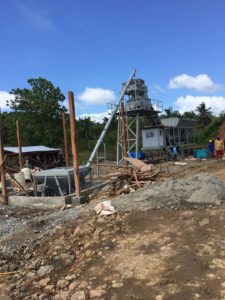 concrete batching plant,
concrete mixing plant
sand separator is mainly of residual concrete mixing station, and water into the chute, mixed slurry residue such as the inlet flow into stirring separator, continuous injection of circulating water at the same time, under the impact of the flow of water, to fully clean the residual concrete. The slurry water continuously flows out of the pulp outlet at the bottom of the separator and flows into the slurry tank. The cleaned sand and gravel are pushed into the sieve system by the propellers in the agitator. After separating the sand and stone, they fall into the material field. The slurry water flowing into the slurry tank from the slurry tank is used to measure the mixing of concrete with water by the superposition method and water. The water slurry is separated by the initial sinking and then the suspended material is separated. The water is collected and collected and then pumped to wash the mixing tank, and then the sand, stone and slurry water are separated and reused.