In global building trend it's good to own a
concrete batching plant
with excellent
concrete mixers
, but you are too native if you believe you can make money easily after buying a c
oncrete batching plan
t, because maintenance also entail much cost and energy. Take cleaning for example. Operators have to master different cleaning skills for different
concrete mixer
s, or else key components may be damaged, or more seriously the life span of a mixer might be seriously shortened by improper cleaning methods.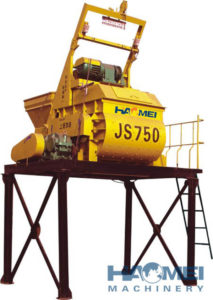 Concrete mixer
Concrete mixers
can be divided into rolling tank type and forced type. The latter can be further divided into single horizontal shaft type and double horizontal shaft type. Both serve as common
mixing equipment
in building industry, and the difference lies in variety of raw materials to be mixed as well as application scopes. Correspondingly cleaning methods for the two types of mixers are different.
Concrete mixers
of rolling tank type serves as mixing device for small scale projects like civil house building. The inner side of its tank can be cleaned directly after the power has been cut off, during which a warning notice should be given so that no one will start the
mixer
accidentally. Forced concrete mixers can be cleaned using chemicals so that hard condensed cement will be removed efficiently. Bear in mind that you mustn't scrap dry cement off a forced
mixer
by shovels, which is likely to cause sealing problems. Besides, special attention should be paid to the positions of blades and shafts to avoid accidental injury.
Haomei,
concrete mixer
manufacturer with decades of history and over ten years of exporting experience, supplies
concrete mixers
of various specifications. If you have further questions, welcome to contact wade@haomei.biz .we'll reply at the earliest time.