Some customers have told us that heavy concrete operation always occurs when the
concrete mixing plant
is used for many years. What are the reasons for the heavy haul operation? The following 5 suggestions are helpful for the operation and use of
concrete mixers
.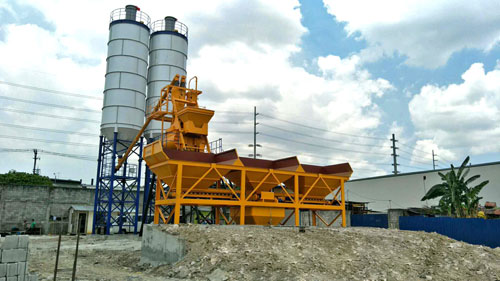 Five reasons for heavy load operation of concrete mixing plant
1. the
concrete mixer
determines the water supply according to the ratio of the required concrete, and adjusts the time point to the corresponding water supply time.
2. the
concrete mixe
r starts the operation of the mixing motor of the concrete mixer.
3. the
concrete mixer
closes the discharge door and adds the required mixture into the hopper to raise the hopper. The hopper should operate smoothly and stop at any position of the track freely. If there is slippage, the hopper should first be placed in the bottom of the pit, then the large nut of the brake motor should be adjusted. When the hopper is lifted normally, the brake is reliable, and then feed into the mixing drum, and the water pump is started to supply water to the mixing drum.
4. after mixing 25-35S in concrete mixer, start unloading door.
5. during the above test operation, if the
concrete mixer
finds abnormal condition, it should stop checking immediately, exclude the fault and then test it again until it is normal. The new mixer of
concrete mixer
is used to check and tighten all the bolts and nuts of the lining board and other parts one day after running. The lubricating parts of the transmission lubrication are lubricated by injection.