To operate and maintain a 
concrete batch plant
 properly, an operator has to master lots of knowledge and skills. Therefore, it's necessary for him or her to accept systematic training before going for the position. The fact is, many operators have had no opportunity or time for scientific training and most of them learn in practice, which enables them to master quickly practical knowledge of operation. However, some skills, especially those entail maintenance, should also be learned because they influence eventually the service life of components of a 
concrete batch plant

.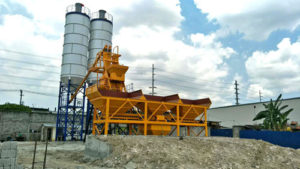 Take belt feeding cautions for 
concrete batch plant

s
for example. The speed reducer must be matched with composite industrial gear oil of given numbers, and the amount of oil fed into the reducer should be in strict accordance with numeric value shown on the label. Excessive or insufficient oil will influence efficiency and normal operation of electric rollers. After working 200 to 300 accumulative hours, the oil in the electric rollers should be changed. After that new oil should be changed every 500 working hours. Operators should follow the steps below to change oil. First, loosen both oil slugs at the same time. Second, rotate the roller until it comes to the lowest position. Third, wait until the oil inside get out completely. Pillow chamber at the rear of tightening rollers also plays an important role in maintenance of a
concrete batch plant
. You should feed it with calcium lubricating grease of ZG-5 and rub the grease on the leading screw as well. After each round of operation, it's necessary to do cleaning work to remove remaining waste stuck onto the base side of packaging tape, rollers and carrier rollers. Last but not least, the sealing tape machine must be, under any circumstances, started without load, otherwise there is a danger that the electric motor might be damaged.