Concrete mixers
, working together with
concrete mixer trucks
and concrete pumps, form a perfect concrete production, delivery and placing line in large modern construction projects. They raise the efficiency of concrete mixing substantially by replacing traditional manual work in which people mix sand, water and cement with difficulty using shovels. However, each coin has two sides. Complex machines bring about high efficiency, yet entail difficult cleaning work. In the past workers only needed to dash the concrete-stained shovels into the water for several times before the shovels become usable again. With
concrete mixers,
however, it is a different case.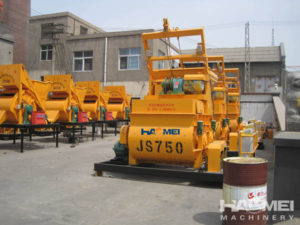 The fact is, a seemingly insurmountable problem can become surprisingly easy if you master some targeted skills. As known to all, there are two types of concrete mixers–drum type and forced type. Drum type, suitable for small building projects and normally seen next to civil houses under construction, proves to be easier to be cleaned. Daily cleaning is enough. Operators should cut off the power and place a "no turning on" sign before beginning their cleaning work. This helps to avoid accidental starting up of the
mixer
by other people. To completely guarantee safety of an operator it's recommended that he should have a companion who can stop any possible dangers around. Forced mixers entail more complex procedures for cleaning. Operators should make sure that mixing blades and shaft ends are in right place before carrying out cleaning work. In case of dry cement sticking firmly onto the machine, rude scrape with shovels is not recommended, because it may result in damage to sealing effect of the machine. A better method turns out to be dissolve the dry cement with chemicals, which guarantees cleaning effect without sealing problems.