A set of 150 square when the production of
mobile mixing station
equipment how much money, mixing station machinery in detail...
(A) With the continuous sales of
concrete mixing station
products, haomei Machinery Manufacturing Co., Ltd., which is led by the production of concrete mixing machine and concrete batching machine, has entered the peak period of delivery. Recently, another set of 150 square meters of mobile concrete mixing plant from the haomei issued.
Mobile concrete mixing plant
is one of haomei 's new products, when the output from 25 to 120 square, according to customer needs, flexible choice.
Mobile concrete mixing plant
equipment has the following advantages:
1, removable fast, easy to move. In addition to the screw conveyor and the cement silo, the front end of the mixing station can drop and move. Otherwise, all the control cables need not be dismantled. Removal of accessories can be taken away with the station.
haomei
mobile mixing station
equipped with tires, traction pin, traffic signal devices, braking systems, trailers allow maximum speed of up to 50 km / hour. Installation, to be flat hardening the ground can be; disassembly required 30 tons crane with. Storage, such as when the device is not used temporarily, to maintain the state of transit transport.
2, other properties and mode of operation, with the principle of fixed standard concrete mixing station.
3, all components of mobile mixing station transport unit dimensions are less than the container empty size requirements, the whole station can only transport a few containers.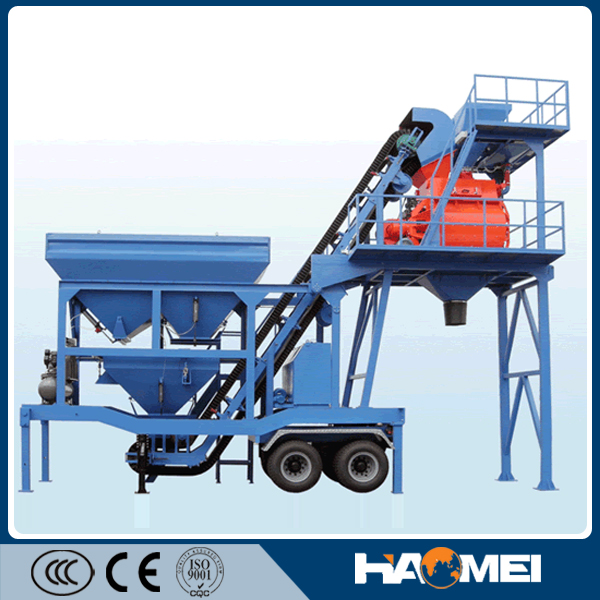 (B) Haomei Machinery Manufacturing Co., Ltd. Contact
v Machinery Manufacturing Co., Ltd. is a construction machinery manufacturer specialized in the research and development of
concrete mixing plant.
Known construction enterprises to reach a long-term cooperation agreement, but also exported to Africa, the Middle East, Asia-Pacific, more than 20 countries, products and services widely praised by customers and favor. email:wade@haomei.biz