Hydraulic system is one of the necessary configuration of
concrete mixer,
which can ensure its stable and safe operation in construction. haomei machinery to take you a comprehensive understanding of the
concrete mixer
hydraulic system.
Generally speaking, after the
concrete mixer
has fully stirred the concrete materials through the mixing drum, the concrete slurry is manually transported to the designated position. And the benefits of the hydraulic system is that after the slurry mixing, through the hydraulic lifting frame material can be promoted to the specified floor height, the building can be used in about five layers, reduce a lot of the old power, has brought great convenience to users.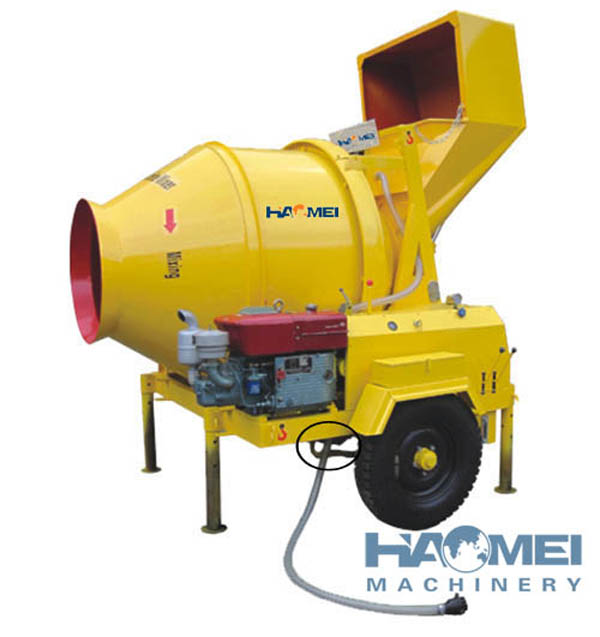 Compared with mechanical drive and electric drive, hydraulic drive has the following advantages :
(1) various components of hydraulic drive can be arranged conveniently and flexibly according to the needs;
(2) light weight, small volume, low inertia and fast reaction speed;
(3) convenient control and control, and a wide range of stepless speed regulation can be realized (speed regulation range is larger than 2000:1);
(4) overload protection can be realized automatically;
(5) the relative moving surface can be lubricated by itself with long service life;
(6) it is easy to realize linear motion and automatic machine. When combined electrohydraulic control is adopted, it can not only realize a higher degree of automatic control process, but also realize remote control.
(7) as the hydraulic components have been standardized, serialized and universalized, the design, manufacture and use of the hydraulic system are relatively convenient. The hydraulic components are arranged in order to have greater mobility.
The parts used in the hydraulic system of
concrete mixer
include ladder frame, pulley, steel wire rope, etc. The materials used are all steel, so the quality of steel is very important. haomei machinery, the production of concrete mixer, made from steel products are of high quality wear-resistant steel channel, safety factor meet the relevant national requirements and standards, ensure the safety of the equipment is reliable, the cooperation in the user's consistent high praise.
Buy
concrete mixer
, welcome to haomei machinery buy! haomei machinery, the production of concrete mixer equipment, most of the spare parts are for the company independent research and development production, let you more worry, convenient, and replace the worn out parts late is that you choose and buy of choice! Manufacturer relies on the spectrum, the quality relies on the spectrum, the service depends on the spectrum, lets you choose and buy more stable! The website 24 hours sales hotline is looking forward to serving you! wade@haomei.biz