Small scale concrete mixers are very popular because of their low price and wide application. They perform themselves fully in house building and repairing of existing projects. Many clients ask for price directly at the beginning of communication with our sales manager, which is a little inappropriate because small scale
concrete mixer
price has a lot to do with models. There are JZC, JZM and JS
concrete mixers
, all of which have small scale models.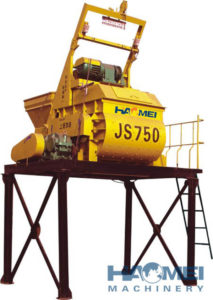 Concrete mixer
JZS series is the cheapest of the three, for its models are mostly of smaller productivity. There are JZC250, JZC350 and JZC500. They are mainly gear-driven with self-falling mixing host of twin shafts, suitable to deal with plastic and half dry concrete for civil projects. Owing to small treating capacity, they have neat design and light weight. JZM series of
concrete mixers
are driven by four wheels. They mix forwardly yet discharge reversely. In comparison with JZS models, they are featured by lower noise, stabler operation and larger capacity. The main model JZM750 can treat much more concrete than the largest model of JZS series. Its price is relatively higher, too. The last series of models, JS, is renowned for high efficiency and typical application in various
concrete batching plants
. The smallest model is JS500, which can be used separately or as a mixing host for HZS25
concrete mixing plants
. It costs more than the other two series.
In a word, small scale concrete mixer price varies from model to model. Clients should first be clear about their real needs and then inquire suppliers about proper models and price. If you need any help in your purchasing, welcome to contact us at wade@haomei.biz