Water remains an inevitable part in the operation of
concrete mixing plants
. Concrete supply companies can reduce cost greatly by water usage control. The main part of water consumption does not fall on concrete production as some people believe, but on cleaning water for mixers and cement tanks during production intervals.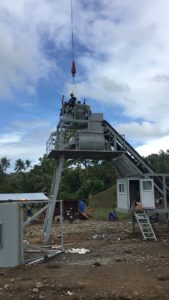 Then how much water does a
concrete mixing plant
use per day? Take water cleaning for
mixing trucks
for example. A mixer truck consumes water of one to two cubic meters every day. A
concrete mixing plant
of medium scale, generally having around 20 trucks, uses 40 to 120 cubic meters of water for a single day if each truck is washed for two or three times. Used water from
concrete mixing plants
contains large amounts of slurry, small sized aggregate, impurities, additives etc. The water, usually of strong alcaline property with PH value of around 12, pollutes the environment seriously if emitted randomly. Besides, it's a great waste to leave tons of used water emitted without recycling, especially when water shortage is becoming a more and more severe problem around the world. Therefore, it's worthwhile to develop used water recycling system which helps to protect environment and save water.
Haomei manufactures and supplies
concrete mixing plants
of small and large scales. We have decades of manufacturing history and over ten years of exporting experience. Our products include stationary concrete batching plants, mobile concrete batching plants and concrete mixers. Welcome to leave a message or contact us for more information!