When installing
concrete mixing plant
, users do not care about the details and the attitude is not right. Detail decides success or failure is suitable for all walks of life. In this article, we will introduce the matters needing attention when Installation process of
concrete mixing plant
for users.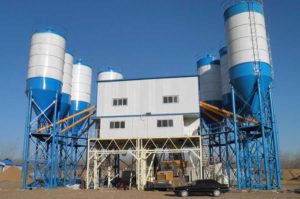 Installation process of concrete mixing plant
First stage:
Preparation of concrete foundation and wellness
It takes 1 day to complete the measurement and actinomycetes work of concrete mixing plant by measuring class;
It takes 2days time for foundation excavation and processing;
It takes 3days time for pouring the concrete foundation;
It takes 10 days for concrete foundation regimen.
Twice stage: Mechanical Installation
1. Aggregate batching system installation
2. The main frame installation
3. Installation of metering devices
4. Belt conveyor installation
5. Cement silo and screw conveyor installation
6. The installation waterway, additives pipeline and admixtures pump machine fixed on a storage bin.
7. Installed gas system, air pump, filter in place, each piping device connected well.
Third stage: Electrical Installation Fourth stage: overall debugging : Mixing equipment after installation , it will take four days time for machine debugging.
1, the mechanical system commissioning
2, the electrical system debugging
Fifth stage: pre-production ( divide into manual and automatic two kinds) Manually operated pilot production Second, automated pilot production
1, will be converted to a rotary switch , automatic ' position.
2 , will set a good proportion of the input computer, follow the prompts to start the automatic control program, compared to the number set by the tank automatic production.
3, according to the actual situation of the automatic pilot production , the program can automatically control various parameters to make appropriate changes in order to meet production requirements .