The type 75
concrete mixing plant
is a relatively common engineering station, which USES the material of lifting hopper and occupies a small area. So how to choose the screw conveyor pump of type 75
concrete mixing plant
?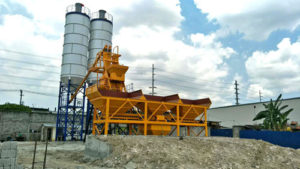 75 concrete mixing plant
Screw pump number selection
In the purchase quantity, the screw conveyor pump is generally proportional to the number of cement bin, but in practice, it is sometimes suggested to choose one or two more spare. For the type 75
concrete mixing plant
, it is usually equipped with two screw conveyor pumps, which depends on the customer's demand.
Screw conveyor pump model selection
Screw pump models are generally distinguished by diameter, such as LSY219, LSY273, LSY325, etc. Choice screw conveyor types, different types of mixing plant commonly have standard, do not recommend the customer to modify, side effects of powder conveying efficiency, resulting in aggregate waiting time is long, aggregate ingredients poor continuity, eventually extended mixing cycle. For example, LSY273 screw conveyor is used in the type 75
concrete mixing plant
. LSY219 is not recommended.
If you are not clear about the type 75
concrete mixing plant
screw conveyor pump choice, you can call us. Actually in addition to the screw conveyor, the customers should be aware of is also a lot of small equipment, such as water, cement weighing, microcomputer control system, and recover the dust collector, dust removal and broken arch, says hopper, vibrator, sensors, air compressor, etc., these little equipment looks like is not important, but in fact is a crucial part of the 75 type concrete mixing plant, the customer wants to spend time on these small devices are screened, ensure your purchase is not unexpected.