Strengthen the Waste Prevention and Control Work of Concrete Mixing plant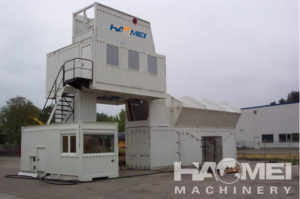 Pollution Prevention and Control of Concrete mixing Plant
First, carry on the classified management of municipal solid waste in
concrete mixing plant
, and reasonably store it to raise the utilization ratio of recovery. Waste residue needs to be put in the designated place according to design requirements, and timely pick up living garbage.
Secondly, before concrete mixing station is in construction, set up temporary pile design field, the retaining wall and drainage ditch, before construction site waste water is discharged into valleys, it needs to go through the precipitation tank.
Finally, in the transport, it is easy to impact on the environment caused by the products or raw materials, so we must prevent leakage overflow and do well the safety protection to prevent environmental pollution accidents. Once there is accident in the transport, the transportation and escort personnel need to take timely measures to prevent the cause greater environmental pollution.
(1) Noise control: Don't operate noisy machine at night to to avoid all non-construction noise.
(2) Dustproof measures: Install four spray devices on the side of the feeding area to prevent dust from scattering. Watering to control the dust in the field.
(3) Waste treatment: Construction and life waste must be centralized piled up and treated timely.
Concrete Batching Plant
(4) Sewage treatment: Construction and life sewage and wastewater can be discharged after the sediment.
(5) Fire prevention measures: To strengthen on-site fire safety awareness education, site is equipped with sufficient fire protect equipment, put an end to fire.
(6) Construction materials must be covered transport,  in case of leakage and pollution along the highway facilities.
Any question or support, please fill in the form below,we will get back to you as soon as possible!!