We all know HZS
concrete mixing plant
according to use can be divided into engineering station and
concrete mixing plant
, the two feeding way is different, but you know, different feeding way, HZS
concrete mixing plant
selection of batching plant also is distinguishing.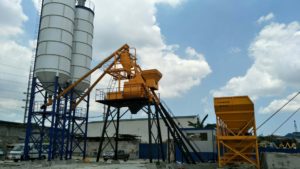 HZS concrete mixing plant
Commercial
concrete mixing plan
t, mainly refers to the HZS concrete mixing plant used for commercial concrete production. This kind of concrete mixing plant has strong production capacity, so it needs to have a stronger batching machine for the main mixer. In order to improve the efficiency of ingredients, we choose independent weigh batching machine, the batching machine, no matter how many kinds of aggregate distribution can be ingredients at the same time, the batching machine using belt conveyor, hopper concrete mixer will be demolished ascension, cooperate with the belt use. This is why the JS1500 concrete mixer at the 90th batch plant has no hopper, while the concrete mixer of HZS75 mixing plant has hopper.
Engineering
concrete mixing plant
for engineering services, commonly in the save land and control of engineering cost, choose hopper lift aggregate transportation mode is better, this time, the concrete mixer can choose take the form of hopper, hopper promoted by one-off boost aggregate, will need to aggregate each part a to ascend, then concentrate on weighing batching plant can by focusing on complete all aggregate weighing hopper, and then directly to the mixer hopper feed.
In fact, in the HZS agitator
concrete mixing plant
, all parts of the equipment are complementary to each other and well matched, so as to give full play to the overall working capacity of the HZS concrete mixing plant. Our factory has equipped the equipment for you. If you need to consult and buy, you can call our website for consultation.