Recently there are many customers to inquire our
batching plant
equipment manufacturers are we responsible for the installation after buying equipment, the answer is yes, as long as it is our equipment, we can free installation, specific how to install, and see it together.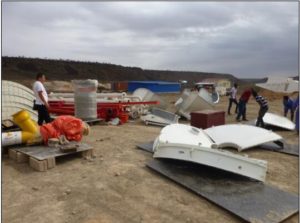 1. Installation of cement silo. The lifting of the cement silo is simpler, need a crane for lifting, according to the construction drawings can, at work, after the positioning of the cement silo, the main equipment of roughly azimuth can be determined, so the more important, need to strictly carry out according to the construction.
2. Host installation. The agitator shall not be hoisted until the installation, adjustment and measurement of the agitator meet the requirements. After hoisting the mixer on the mixing platform, do not tighten the fastening bolts connected with the platform to adjust the position later.
3. Installation of unloading device. Here mainly refers to the aggregate transition positions, dou devices such as powder, blender shaft tube with mixer cover on the ground after assembled, lifting to the
concrete mixer
to fixed, and then install discharge pipe road respectively. After the installation and positioning of the powder batching device and the water batching system, the above soft connections shall be fixed firmly.
4. Installation of air system. Set the installation of the pneumatic control system components assembled before, according to the corresponding position of the pipeline system should be fixed again good, after the installation application 0.7 MPa compressed air which lasted 5 min pressure test, can not have leakage phenomenon. When installing air filter, oil mist device and solenoid valve, attention should be paid not to install the reverse direction, that is, according to the order of air filter, oil mist device and solenoid valve.
5. Installation of batching system. The installation sequence of water mixing system is bottom valve, water centrifugal pump, check valve, water pipe, water tank, precision valve. After installation, the pressure test should be conducted. The pressure should be 0.7mpa, lasting 5min, and there should be no leakage. When installing the installation pipeline of the additive batching system, at least 45% of the pipe discharge must be ensured to ensure the accuracy of the batching. When the pipeline is installed, avoid bending as much as possible. At each junction, raw tape shall be used to seal and prevent leakage.
Mixing plant
equipment manufacturers – haomei machinery solemnly promises, who buy
mixing plant
equipment in our factory, we provide free services of installation, training, ensure delivery to the customer is a set of the equipment can be used directly, and to ensure that the correct customer production operation, if you need details, can dial telephone counseling on our website! email:wade@haomei.biz