Concrete mixing plant
mixing console cleaning work is an essential part of in site equipment maintenance, the selection and control of cleaning time is also have certain rules to follow, so how to control
Concrete mixing plant
cleaning time?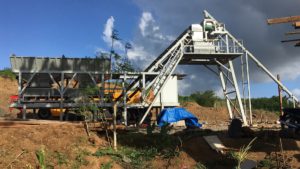 How to control the cleaning time of concrete mixing plant?
During a working week, the main engine should be cleaned at least once. After the daily production, the main machine should be cleaned thoroughly. During the cleaning process, put water and a few stones into the stirring machine for 5 ~ 10 min. After cleaning, all the materials in the machine should be removed, and no water or product will be allowed. After shutdown, flush the pipe and remove dust and adhesive concrete from inside and outside the mixing tank. In general, the JS1000 type mixer is about 150 ~ 180 kg of water, and the other models can be added or reduced, and the water will be cleaned by itself.
When washing and stirring the door of the host, it should avoid the phenomenon that the product of the upper wash is formed. During the mixing process, if the concrete transport vehicle is not in place for a long time (more than 20 ~ 30 min, especially in summer), the mixer should be cleaned with water.
When cleaning the
Concrete mixing plant
of  mixing station, the following items should be noted:
1. During normal production of
Concrete mixing plant
equipment, it is necessary to check the solidification condition of concrete in the mixing tube and stirring shaft regularly. If there is coagulation, it should be manually removed as required. Before cleaning the mixing bowl manually, the power supply and gas circuit must be cut off. When cleaning the mixing bowl manually, it is strictly forbidden to hit the stirring shaft, stirring arm and mixing blade.
2. When the
Concrete mixing plant
equipment is washing and stirring the door of the host, it should avoid the phenomenon of the product formation of foreign body stuck in the upper flush. During the mixing process, if the concrete transport vehicle is not in place for a long time (more than 20 ~ 30 min, especially in summer), the concrete mixer should be cleaned with water