The quality of concrete is closely related to whether the weighing system can work normally and whether the batching scales are accurate. Inaccurate material weighing not only affects the quality of concrete, but also affects the project progress. So what are the reasons for the misalignment of the weighing system?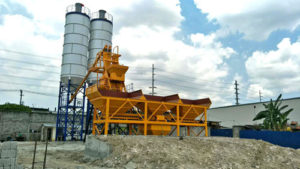 Cement Plant
I. human factors
1. Due to the aggregate or dry or wet, or by the loader loading impact, the actual drop and set value will also produce errors.
2. In actual production, wet materials will stick to the hopper, at which time the batching controller cannot complete unloading.
3. The material value set by the batching mechanism is too small, the material quality is uneven, and there is a big difference between the diameter of gravel and the thickness of sand and the dry and wet conditions; After changing the formula, there is no drop measurement, which will lead to inaccurate measurement.
4. The daily lack of inspection and maintenance of the batching mechanism, insufficient lubrication of the material door opening mechanism and unloading cylinder or failure to maintain for a long time will directly lead to the opening and closing lag of the material door and affect the accuracy of measurement.
5. Installation error. Pay attention to the installation position and even the direction of the sensor and the connection mode of the weighing part. If the installation position is incorrect or the soft connection should become hard connection, the metering may be inaccurate.
Ii. Electrical factors
The electrical problem of the
mixing station
is difficult to deal with the measurement problem, other problems such as a motor or solenoid valve does not move, read the drawings along the line is easy to check the problem. However, there are many reasons for the measurement problem. Some mechanical problems are reflected in the electrical problems, such as the scale bucket stuck, which causes the sensor to display zero force; some external interference causes the signal to be unstable, and so on.
3. Other factors
If the weighing hopper is stuck or cannot move freely due to other reasons, the force error of the sensor during feeding will be caused. Although the setting value of the batching after feeding is consistent with the display value of weighing, the actual material is much larger than or less than this value. Check and handle the stuck parts, and re-calibrate the scale if necessary.
In short, the failure of batching and weighing system is a frequent fault in the weighing system of
mixing station
. In order to ensure the smooth progress of construction and production, the weighing system of
mixing station
must be constantly calibrated and debugged.