Concrete mixing station
should not only carefully select concrete mixer and batching machine, other supporting equipment can not be perfunctory. If the choice is not right, it will not only affect the production efficiency and quality of concrete, but also affect the service life of the whole
concrete mixing station
. So how to choose the supporting equipment of c
oncrete mixing station
?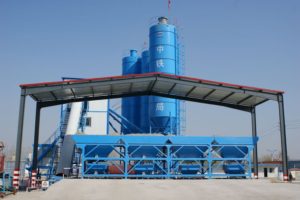 How to troubleshoot a concrete batching plant "health" problems
1. Selection of powder feeding equipment such as cement in
concrete mixing station
As an important raw material of concrete, cement plays a very important role. Therefore, the choice of cement supply equipment should be taken seriously. Currently, in the
concrete mixing station
, cement bin is used as the material bin for storing cement, so special attention should be paid to its selection. We should choose cement bin with good sealing and strong wall thickness. At the same time, as a screw conveyor conveying powder, the requirements are compact structure, small cross-sectional area, good sealing, flexible process layout, easy to disassemble, assemble and move.
2. Selection of liquid weighing supply equipment
In the
concrete mixing station
, the requirement of water weighing bucket body is not too strict, just regular. For additive hopper body, if it is corrosive, it needs the strong anti-corrosion property of raw materials, and the selection of water pump and siphon pump needs the large volume of national standard. The purpose is to ensure its quality, if the selection of non-standard small factory products, equipment easy to damage, update and maintenance more trouble.
3. Choice of concrete transportation equipment
Transportation equipment of
concrete mixing station
must be selected according to the topography of construction site and construction equipment. Tank trucks are often used for transportation. Of course, if there are other requirements can be selected according to the site situation.
haomei machinery has been doing
concrete mixing station
for many years, we have rich experience and advanced technology, and outstanding technical staff can provide customers with perfect site construction plan, welcome new and old customers to call the sales hotline for consultation and order.