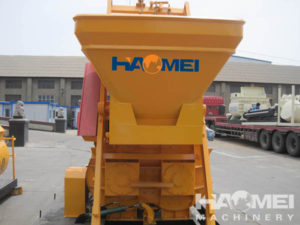 Operation procedures of concrete single horizontal shaft
concrete mixer
:
1. Before starting up the concrete single horizontal shaft
concrete mixer
, check whether the rotating part and the material barrel are scratched. If there is scraping, adjust it in time.
2. The reducer should be filled with oil before use, and the unloading worm gear and sliding bearing should also be filled with oil.
3. Clean the stray material in the cylinder, lock the cylinder limit device, and then start the machine. If it is found that the operating direction does not meet the requirements after starting, the power shall be cut off in time, and any two phase lines of the conductor shall be exchanged for positions, and then start again.
4. Put the concrete mixture into the barrel, close the cover and adjust the timing of the relay according to the mixing time (it must be adjusted in case of power failure).
5. When the start button is pressed, the spindle will drive the stirring shovel to operate and stop automatically after reaching the set time.
6. When unloading, stop the machine first, and then loosen the handle to limit the material position, and then rotate the handwheel. The worm wheel drives the material barrel to the position that is convenient for discharging the material, stop the rotation.
7. The single horizontal shaft
concrete mixer
is used to clean the drum, and water is put into the drum to make the spindle run to clean the residual materials in the drum or to clean them with sand.