There are many types of forced
concrete mixers
on the market, ranging from 350 to 4000, which brings about difficulties in people's choice. How can we decide which type is suitable?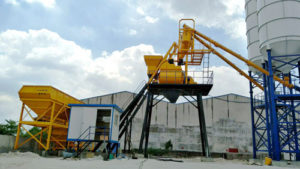 concrete batching plant,
1. Select according to the construction quantity of the project. In big quantities, time limit for a project long customers, try to choose a slightly large forced concrete mixer, such as JS1000
concrete mixer,
used with a concrete batching machine and other equipment, to some small quantities of industrial construction, suggestion choice JS500, JS750 forced
concrete mixer
, high efficiency, high cost performance.
2. Discharge capacity. For large and medium sized commercial
concrete mixing plant
with production capacity of 50 cubic meters /h, it is advisable to choose a
mixer
with discharge capacity of 1 cubic meter or more.
3. Large size of aggregate. Different kinds of strong concrete mixer with different discharge capacity allow different aggregate sizes. All kinds of concrete conveyance and irrigation methods have certain requirements on the properties of concrete.
4. Concrete type and slump. The single horizontal shaft forced
concrete mixer
is suitable for the production of dry hard concrete and light aggregate concrete. Double horizontal shaft forced c
oncrete mixer
can produce all kinds of concrete.