JS is a two-axle
concrete mixer
, which is a relatively advanced
concrete mixer
. Its mixing quality and efficiency are very high, but so far there is no clear concept of its power. Although this
concrete mixer
has its model, it will use different power according to different USES.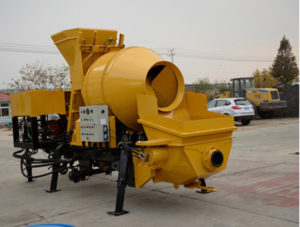 Although there is no recognized calculation method, there are some more commonly used methods. In terms of the mixing power of horizontal shaft forced
concrete mixer
, the calculation is generally based on the resistance of the mixture per unit area to the mixing blade (resistance coefficient). The determination of the resistance coefficient is related to the concrete proportion, the size and shape of aggregate, the fluidity of mixed material and the linear velocity of blade. The data show that the resistance coefficient K is mainly a function of the blade velocity when a certain flow is too high. As for the resistance coefficient K, the linear velocity at each point of the blade is not much different, which can be approximated as a constant. Experiments show that K is selected within the range of 606-8.25.
The structure of JS
concrete mixer
is somewhat complicated than that of general concrete mixer, so the power calculation is also troublesome. Users who need to use the concrete mixer can base on the data provided by the manufacturer.