Social development drives progress in all aspects of the city, especially in rural areas. In recent years, many people have begun to invest in
concrete mixing plants
in rural areas. As the most important part of the mixing station, the users are careful in their choice, but sometimes they can't get rid of the trouble in use.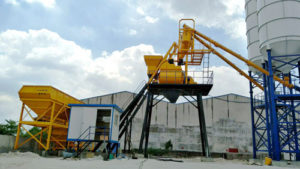 concrete batching plant,
Common faults of
concrete mixer
include: 1. Mixing blade and supporting arm lining are loose due to loose connection bolts and uneven lining.
2. The cone roller bearing is damaged, resulting in abnormal sound of the winder speed reducer.
3. The stirring motor stops due to stone sticking in the stirring barrel.
4. The stirring blade is seriously worn and not replaced in time, resulting in too large clearance, overloading of gravel plug, too much resistance of supporting device of stirring shaft, and low voltage causing overheating of stirring motor.
5. If the rail installation is not parallel or the brake separation clearance is too small and the voltage is low, the winder motor will overheat. 6. The failure indicator light may be due to the failure of the first limit switch of the hopper rising or the loose rocker arm, the rust of the hammer, the damage of rubber sheath, etc.
The common troubleshooting methods for the above faults are as follows: 1. The connecting bolt leveling liner can be tightened during routine inspection before use.
2. Replace the bearing.
3. Remove any stones stuck between mixing blade and lining.
4. Replace the blade and adjust the clearance; Add grease to the mixing support.
5. Adjust the parallelism of the track and the brake separation clearance of the motor. 6. Repair or replace the limit switch.
If the
concrete mixer
fails, the reason must be carefully checked to minimize the delay of the project due to the
concrete mixer
's failure. As long as you find out the reason, you will find a good solution, so in case of failure, you don't have to be in a panic. If you can't find the reason, you can also call the manufacturer's after-sale phone and ask the manufacturer to send someone to help check.